Making wiring looms is what we do. We do not claim to sell wiring connectors and have a tiny sub assembly on the side making your wiring harness; our core business is making cable assemblies. It is something we started as a business back in 1983. Over those years we have added a vast array of tooling including CNC automated cut, strip, crimp and test machines. We can make harnesses from simple wires to fully aero approved laced harnesses. We take the hassle out of you making anything and you have the assurance with our quality standards that everything we ship to you will be 100% correct to your specification. We can loom basically anything that is required by the customer. Wiring looming techniques and complexities vary from market sector to market sector. We have many years of experience from simple techniques such as sleeving and tie wraps to waxed laced looms that are used in the aerospace market.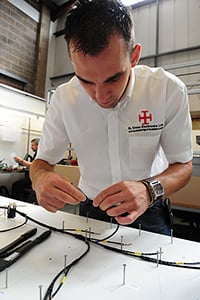 Most cable looming is carried out on loom boards, these are serialized and issued, and also make reference to the drawing and its issue. These are stored and maintained here at St Cross Electronics. Again these vary in size and complexity, but so far we have not come across anything we cannot loom.  Motorsport and military wiring systems are all manufactured to TYCO System-25 standards and use specific materials that are suitable to different heat and emissions environments.  Some other wiring looming materials we use are heatshrinks, PVC UL sleeves, and open weave sleeves.
All manufacturing is carried out using our customers or our own CAD systems, our ERP CRM planning system and of course we offer full traceability on everything for at least 5 years.  All crimping processes on each job are tested to destruction to ensure the tooling is set correctly and that each crimp is gas tight.  SPC charts are monitored and recorded on tooling to ensure we can see trends where tooling needs replacing before the tooling fails.  Quality is KEY!!   You come to a supplier like St Cross Electronics as you want the best possible quality and you want to use it straight from delivery.