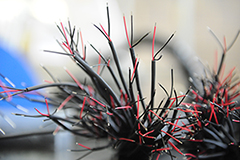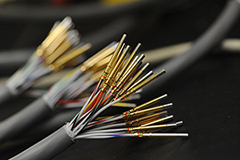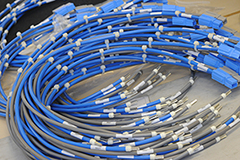 Cost Effective Custom Cable Assemblies Without Compromise
As experienced cable assembly manufacturers, we manufacture the highest quality cable assemblies at a very competitive price. Our manufacturing facility in Southampton uses state of the art technology for a high speed turn around. Cost-effective custom cable assembly and manufacture across a wide variety of wire harness solutions is our area of expertise. 
What makes us a success? Simply put we manufacture our cable assemblies here in the UK, and have done for over 30 years. Quality is KEY to our business and more importantly to our customers. We have some of the best equipment, staff and test facilities to ensure we produce the very best cable assemblies.
Fully Approved Solutions
Do you want your cable assemblies to be built to the following?
UL APPROVED
ISO APPROVED
FAST TURNAROUND 
Complete Interconnect Solutions at the Right Standard
St. Cross manufactures and supplies an extremely wide range of cable assemblies and custom cables all from the United Kingdom. This gives our customers the complete interconnection solution at the right standard, within budget and on time. Whether you are looking for a one-off or long term partnership we can offer the best cable assembly solutions in the UK.
Cable Assembly Batch Sizes from 1 to 100,000+
Manufacturing our cable assemblies in a variety of styles and options - across a huge range of applications. From simple one ended wires to complex cable harnesses with over 1000 circuits. Batch sizes from 1 to 100,000. We have fully automated robotic machinery supplied from Komax and have a team of very experienced operators. From our years of cable assembly experience, we can offer a solution for most industries.
Military, Aerospace, Medical, Telecoms, Marine, MotorSport and much more
We supply looms and cable assemblies to military, aerospace, medical, telecoms, marine, audio visual and motorsport sectors. We design and manufacture cable harnesses for operating in the harshest of environments. Industry and application types include - F1, Marine, Oil and Gas. Some of these utilise the TYCO System 25 materials and practices. We have a team of 28 expert staff at our base here in Southampton.
We work with wires as small as 32AWG to 150mm sq. Where we excel is when our engineers work with your engineers. We call this Design for Manufacture (DFM). We can help you design the cable harness or cable assembly around the spec you require. This removes compromise and avoids having to make use of materials that could not be as good as others for the design you need.
Fast Turnaround even for Custom Cable Assemblies
Why use a component that has long lead time? Why use that expensive connector choice? Use our experience to spec in a connector solution that may not have even been thought about. We have over 30 years experience of this and use this experience to improve your . We have our own in house CAD team who can work easily from other drawing packages such as VISIO and SOLID WORKS.
Experienced Staff and Operators
We value our experienced staff, some of our operators have been here as long as the business, they all have a wealth of experience in cable assembly manufacture. We operate a training matrix schedule for all operators with monthly KPI's set for them all. We operate a lean manufacturing production facility to constantly improve our times and efficiency. We have to constantly evolve to improve, to make sure we are a success in all that we manufacture. Our success is that we can be competitive without any compromise to quality, so a lean manufacturing process is essential.
Sophisticated Tooling and Production
Production is scheduled by running our MRP ERP system. This is run daily as a minimum and is a process we have had since 1995. For over 30 years we have been making cable assemblies and harnesses and in that time we have invested in some very sophisticated tooling, automated tooling. This detailed and systematic approach to cable assembly is what stands us apart from our competitors. In quite few instances we can actually engineer the production of a loom so that it is cut, crimped and inspected all by robotic CNC machinery. We constantly invest in our facilities, whether that be on tooling, test equipment or workplace.
Want to find out more? Get in touch now!
Contact one of the team today with your enquiry for free no-obligation quote.