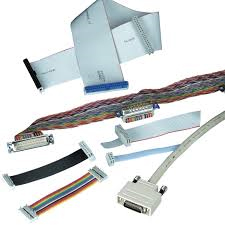 Leading UK IDC Ribbon Cable Specialists
We are still one of the UK's leading IDC ribbon cable specialists.  Quite literally this was the one of the first terminated cable assemblies we started to manufacture at the founding of St Cross Electronics way back in 1983.
Huge Range at Competitive Prices
All different types of IDC Ribbon cables and connectors can be manufactured at very competitive costs.  We can press various pitch sizes including 2.54mm, 2.0mm and 1.27mm.  Not only do we press onto standard IDC cable, we can also manufacture twist 'n' flat, jacketed and screened versions of cable.
Massive Selection of Cable and Connectors - In Stock
We always have IDC ribbon cable in stock, and a massive selection of IDC connectors.  These are made up of IDT, standard rectangular sockets, transitions and also the widely used D sub range of connectors.  Some other more unusual types are also stocked such as, SCSI, ODU half pitch, and multiple TYCO versions.
Rigorous and Extensive Testing - As Standard
As standard with any cable assembly we manufacture all our IDC ribbon cables are 100% electrically tested using Cirris test machines, to give our customers full confidence that they can use their cables as soon as they are delivered.
Contact one of the team today with your requirement or for a free quote.