St Cross has over 30 years of experience in designing and manufacturing high quality but cost effective wiring looms.  What is the difference between a wiring loom and a standard cable assembly?  We differentiate this by the task involved.  Usually for us a wiring loom falls under the military spec bracket and is made to Raychem or TYCO System 25 standards.  These types of wiring looms are used in more rugged environments, such as automotive or marine applications.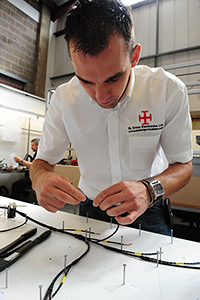 Our wiring looms are constructed using TYCO materials, are contra helically 'laid' up on wiring loom boards and then constructed using heat shrink or other types of high grade sleeving materials.  We have a separate department for manufacturing wiring looms; they are all trained at TYCO in Swindon to the System 25 standards. 
As you can imagine 'laying up' a wiring loom in this method is a skill in itself.  What are the advantages of St Cross Electronics making a wiring loom in this way?  Ruggedness, flexibility, reduced weight and longevity are all key benefits to making a wiring loom in this way.  So what stands us apart from our competitors?  St Cross Electronics is involved in manufacturing wiring looms and cable assemblies for so many different market sectors.  With that in mind, it enables us to constantly evolve and invest in machinery and wiring loom processes.  This stands us apart from our competitors who could only be aimed at manufacturing this type of wiring loom for a specific market sector.  This constant investment in machinery enables us to speed up the manufacturing process and offer a more cost effective service without any impact on quality.
Quality is KEY to every process we have in the business.  Being ISO and UL approved every process we have is documented, controlled, recorded and stored on file for 10 years.  Tooling is constantly calibrated, crimping is constantly recorded, and electrical testing is carried out 100% on every single wiring loom.  Again all these results are recorded and maintained in house and we can if you require provide a test certificate with every wiring loom we produce.  Even the wiring loom boards are serialized and controlled.  Every detail has a controlled process so we maintain our excellent level of delivering a cost effectivehigh quality service.
Contact one of the team today with your enquiry and get a free quotation.