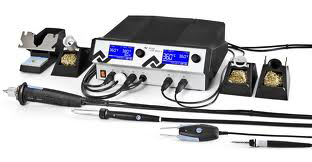 IPC A-610 and IPC J-STD-001 Trained Staff
Since our inception back in 1983, soldering has always been one of our key methods of termination when building cable assemblies. Our operators are fully trained to IPC A-610 and IPC J-STD-001 soldering standards and achievement levels are recorded on their training matrixes. Our solder areas are ESD protected and as standard have fume extraction, which are all carefully monitored and calibrated. Even the soldering irons we use are all calibrated and recorded.
Your Specifications Built to Industry Standards
We solder to many different types of connectors from Standard D-Subs, Military Circular Connectors to intricate RF connectors. Working to RoSH as a standard rule we use lead free solder but can, under authorisation from customers, use solder that contains lead. Some of our military and medical customers actually request that non RoHS products are used. Where this happens we identify the final product as non RoHS approved work.