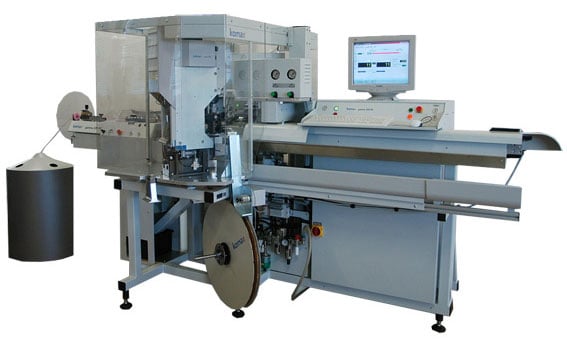 Over 35 Years Experience
With over 35 years of expertise in crimping wires, in that time St Cross Electronics has crimped wires as small as 32AWG and as large as 150mm sq.  We have amassed a large array of crimping tooling in that time period, including hand tools, small and large, applicators for semi automatic crimping machines, die sets for 2 stage crimping machines and of course an extensive range of CNC robotic fully automated crimping machines. 
Komax Crimping Machines - Swiss Excellence
We have standardised on these crimping machines using a high quality supplier from Switzerland called Komax.  We have used their machinery since our founding in 1983.  We are not tied to a connector manufacturers tooling and have adaptability this way.
High-Quality Results - Every Time
Quality is KEY, so all crimping processes are logged, maintained and recorded.  Every single crimped batch will have a tensile test carried out on the first and last of each batch.  This is recorded with the job and stored for 10 years.  All our hand crimp tools are calibrated multiple times a year.  If there are any failures in any crimping tooling then the crimp tool is immediately quarantined, it will then pass through our NCR process to determine what has made it fail and what needs to be done to repair and re-introduce it into production.
Whatever The Requirement We Have The Solution
We have crimping hand tools, crimp applicators, bench presses and high end Komax cut, strip, crimp and test machines.  It is very rare that we have a job or quote to issue where a crimp termination is not catered for in our array of crimping tooling.  However, this does occur sometimes, and if this does happen we have a great supplier of applicator crimping tooling.  All we need is a strip of the crimps on the bandolier and a sample of the wire will be crimping.  We always try to get away from hand crimp tools as the auto or semi auto practice of crimping is far more controlled and scientific, however, we do understand that hand crimping will always have its place.  Take our motorsport crimping for instance, we have to use DMC hand crimp tools for these.  Contact us today and we can arrange a tour of our facility where you can see our equipment and our processes in operation.
More details on our crimping practices can be read in our featured crimping blog, please click here to read this.
Contact one of the team today with your requirement for crimping.